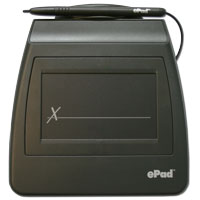 ePad VP9801 ® is ePadLink's low-cost, entry level electronic signature capture device for any environment, displaying the signature on your computer screen as you sign. It has a slimline casing and being lightweight is ideal for signing scenario where portability is required. It is a signature capture device that produces legally-binding esignatures and comes bundled with comprehensive esignatures software.
Being non LCD, it is also very durable and able to withstand harsher working environment.
Bundled with every ePad product is IntegriSign® Desktop eSignature software with plug-ins for Microsoft Word and Excel, as well as PDF signing with pDoc Signer® and Adobe Acrobat, so you can start eSigning out of the box.  For software developers, IntegriSign Desktop also provides a set of Software Development Kits (SDKs) for capturing signatures in PC and web applications and for interacting directly with the various ePadLink signature pads.
IntegriSign® also comes with a set of software utilities to check connected devices, configure signature experience like color of pen, labels of signature field, signature size etc.
Below are the full Product Features:
Ergonomic design
Legally-binding esignatures
USB powered, portable device
Bundled with Integrisign® software for Acrobat, MS Word and Excel
It supports both Windows and Mac platforms. (Please note for installation in Mac, it supports the Adobe plugin.)
General Information
Product Type: Signature Pad
Brand Name: ePadlink
Manufacturer: ePadlink
Product Name: ePadlink Electronic Signature Capture Pad
Technical Information
Signing Area: 3.50″ x 2.09″
Physical Characteristics
Height: 5.8″
Width: 6″
Depth: 0.6″
Weight (Approximate): 4.21 oz
Please click below for the full datasheet.
ePad VP9801
includes the following software
Software
You can visit our shop to BUY NOW!
For more information or further sales inquiry on this product, please click here to contact sales!